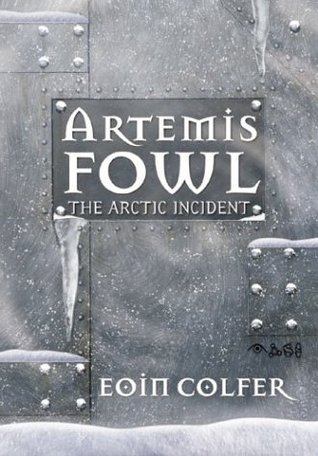 The Arctic Incident is book 2 in Eion Colfer's Artemis Fowl series about a now thirteen year old genius and criminal.  In my opinion it's even better than book 1 which is rare for a fantasy series.  I just quickly checked the Goodreads.com reviews for the Artemis Fowl series and it seems in general the reviewers agreed with me, giving book 2 a higher rating than book 1.
Artemis got a mysterious e-mail from the Mafiyat, the Russian Mafia, claiming to have found Artemis Fowl Sr. and is holding him for a $5 million ransom.  Artemis and his bodyguard Butler decide to go after them alone to rescue Artemis the 2nd's father.  Foolish, perhaps, but Artemis is a genius and he loves his father.
Before Artemis and Butler can board a boat to Russia they are, ironically of course, kidnapped by Captain Holly Short of the Elven race.  It seems Mud People have been trading with the Goblins and Artemis Fowl is the #1 suspect.  Artemis firmly denies it but offers to help find out who is responsible in exchange for help getting his father back.  A tentative alliance is forged between The People and The People's #1 enemy , Artemis.
Like I said, I felt this book was better than book 1.  The pacing seemed to be better as the characters were not stuck in Fowl Manor for an extensive amount of time.  There was just more going on as perspectives from major and minor characters were taken into account.
As I said in my review of book 1, obviously Artemis Fowl would turn out to be a good guy and he was in this book, even if it could be said that all his actions were moving towards rescuing his father which in itself is a noble act.
Read on my friends.