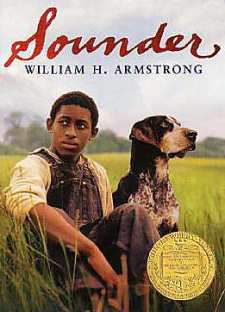 50:50.  I would say that's the ratio of books I like vs. not like when a book wins all kinds of awards.  That is to say, I only like about 50% of the books I am supposed to like.  Unfortunately for Sounder, it's among the 50% of the award winning books I did not like.
So Sounder is another novel study I did with the grade 7s about a young black boy living in the countryside.  The only name that is ever given in the book is Sounder, a coon hound that came to the family when he was still a pup.
So I guess the book is a portrayal of poor families in the 1930s.  And I'm sure the dog Sounder has all kinds of symbolism attached to it.  The fact that only the dog is ever named in the story is significant.  But honestly, who cares?  If the story isn't good, I don't really care.  And the story wasn't good.  I doubt I will ever use this book as a novel study again.
The grade 8 "supposed to read" novels are so much better than the grade 7 ones I must say.