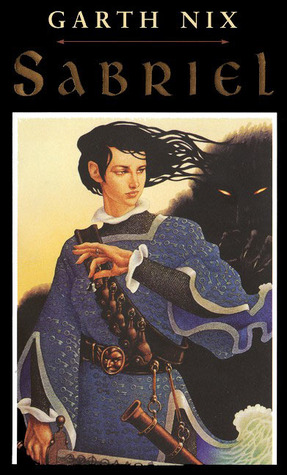 Sabriel is book 1 in the Abhorsen series by author Garth Nix.  Sabriel is a teenage school girl capable of communicating with the dead and even bringing the dead back to life if they haven't crossed the final gate.
For most of her life, Sabriel thought Abhorsen was the name of her father.  He was both feared and respected through all the lands because of his command of life and death.  That is until he goes missing and Sabriel, fearing he is dead of trapped in death, sets off to find him.  This is when Sabriel finds out that Abhorsen is not a name but rather a title.  A title that Sabriel must inherit if her father is indeed dead.
The magic systems in Sabriel are called Charter Marks and Free Magic.  It's not entirely clear how they work but they aren't really central to the story so I'm not going to worry about it.  Modern technologies (such as guns and tanks) are just a prevalent in Sabriel as magic.  Though of course certain feats can only be accomplished with magic.
Kerrigor is the main villain in this book who died but did not quite stay dead.  He has become the strongest creature alive or dead in the world and it is up to Abhorsen to stop him.
I am confused about one thing in this book: Abhorsen realizes near the end of the book that every person and every thing has a time and place to die.  And yet………Abhorsens manipulate life and death as they see fit.  So……………….
Anyway, straight forward read.  Pretty short.  Nothing really good or bad about it.  I will finish the rest of the series at some point.