>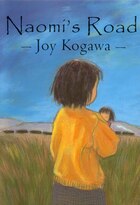 On December 7, 1941, the Japanese navy attacked Pearl Harbor.  After that day, all Japanese Americans and Japanese Canadians were sent to internment camps and all their property were sold.  Joy Kogawa was a young Japanese girl at the time.  She wrote Naomi's Road as a sort of autobiographical of her at the time.
Naomi's Road is about a fictional young girl, Naomi, who was collateral damage in World War II.  Twice she is forced to leave her home due to the war.  The first time she is forced away from her mom and the 2nd time she is forced away from her dad.
Naomi's Road is a case where the story itself is far better than the actual writing.  The writing was written in present tense and 3rd person the entire time which made it sound very strange.  The sentences were choppy.
Being that the main character was a young girl, the story is undoubtedly a children's literature book but it would definitely require some explanation from an adult.  This would probably be a good first novel for young readers read as a novel study in schools.