>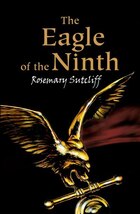 The Ninth was a Roman Legion that got lost coming out of northern Britain.  The Eagle, a symbol of a Roman Legion, was lost along with the Legion.  Twelve years after its mysterious disappearance, Marcus, son of the Legate of the Ninth, set out to find out what happened in The Eagle of the Ninth.
The classification of the book being children's literature is not a very good one in my opinion.  Children from which part of the world is the target audience?  Children from North America barely know their own history, so this particular story from centuries ago taken place across the world has no context for them.  I don't even see children from modern Europe caring too much about this story.
Sooooooo, I'm going to review the story as an adult historical fiction.  From this point of view, there really was not enough to hold my interest.  At no point did I ever imagine myself in the particular time period the story was written in.  It wasn't even the lack of specific period details that bothered me (since we all know I hate lengthy descriptions), it was just the lack of anything happening.  All the tribes that were met along the way and their customs really had no impact on me.
I'm usually pretty interested in history too, I guess maybe not this particular time period.