>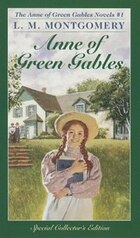 No doubt everyone knows by now that I strongly dislike descriptions in stories.  I hate reading paragraph after paragraph about the way a tree branch looks.  In fact, I recently received a C- in my creative fiction writing course because I refused to add all these descriptions to my stories.  Well anyways, you can probably imagine my dislike of the first 20 or so pages of
Anne of Green Gables
where the author goes into painstaking detail in describing Green Gables and Avonlea.
Well the story finally picks up when Anne, an orphaned girl, is introduced.  Nobody really wants her, they just take her in because they pity her.  She went through her first 11 years of life bouncing from one family to another.  Finally the Cuthberts end up with her by accident.  The best way to describe Anne is summed up in one of the author's own sentences,
It almost seemed to her that those secret, unuttered, critical thoughts had suddenly taken visible and accusing shape and form in the person of this outspoken morsel of neglected humanity.
The problem I had with Anne of Green Gables is that there was no identifiable problem.  Anne is new to Avonlea but she is instantly liked at her new school and by her new foster parents.  We are taught from a very young age that every story must have a conflict.  Yeah perhaps she could be considered odd with her big imagination, considering the time period of the book, published in 1908 but set at a much earlier date, but that in itself doesn't cause any real problems except forgetting to do her daily chores.  I guess it could be considered a problem novel of a young girl growing up……..
Maybe because of my background in fantasy novels, I am used to everything building up to a climax.  I don't even know what the climax of the story would be.  There is no sequence of events leading up to some conclusion.  It's simply a daily account of a young girl growing up in Prince Edward Island a long time ago.  Not very exciting in my honest opinion, regardless of whether it is considered a Canadian classic or not.