>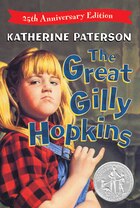 Oh man.  Let me start by saying a book has never been so close to bringing me to tears.  If you knew me, you'd agree that is a very big deal.  The Great Gilly Hopkins is about an 11 year old girl who has been bounced around from foster home to foster home.
Galadriel "Gilly" Hopkins is a bit of a troublemaker.  She is one of those people who wants people to fear her.  Her first day at her newest school, she picked a fight with 6 boys and won.  She does what she can to terrify her younger step brother.  Her step mother was as patient as could be expected.
Throughout the whole book, Gilly is trying to get her biological mother to come and rescue her.  Gilly even stole money from her step mother and their neighbour to buy a bus ticket to her mother's house.
I won't say anymore about the story since I don't want to ruin it for anyone.  It's just one of those books that will stay with you for a long long time.