>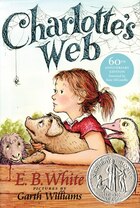 Charlotte's Web is about the friendship of a spider, Charlotte, a pig, Wilburn, and a young girl, Fern.  Wilburn is born a runt and the farmer immediately wants to kill it so it doesn't cause problems.  Fern convinces her father not to kill Wilbur.
Wilburn is eventually sold to Fern's uncle where he is bored and attempts to escape but is too scared to do so.  After a failed attempt to escape Wilbur is still bored but at this point he makes a friend, Charlotte.  It is later revealed that the farmer who owns Wilburn is trying to fatten Wilburn up so he can turn Wilburn into bacon and ham.  Naturally Wilburn doesn't want to die.
Charlotte has a plan to save Wilburn.  Her plan is to write praiseful words for the pig in her spider's web.  She started with "Some Pig", went to "terrific", then "radiant", and finally at the fair she weaved the word "humble".  The young readers, the target audience of this book, may or may not realize it but these slogans, as the book class them, are more representative of Charlotte, the spider, than Wilburn.  I've read some reviews where they said the slogans are more about Fern.  I don't see it.
Anyways, the book is a very nice transition from the more kiddy books to more advanced books for kids because of the book length, approximately 180 pages, and the topics dealt with.