>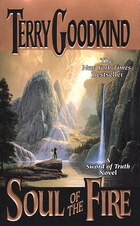 Well well, the wedding we've all been waiting for finally arrived here in book 5 of The Sword of Truth : Soul of the Fire .  Unfortunately, their wedding and Khalan's calling of The Chimes satisfied the conditions of an ancient magical spell – the Three Chimes were loose.
This was actually my least favourite of all Goodkind's books so far because of his introduction of a new city, Ander, and two races of people, Anderans and Hackens.  Goodkind spent a lot of time, and pages, describing the entire history of Anderans and Hackens.  As it turns out, it wasn't even all that important for THIS book.  I sure hope Goodkind ties Ander back into the story, but it's hard to say seeing as how it got destroyed at the end.
Lord of the Rings had Samwise Gamgee, Harry Potter had Neville Longbottom, and now Sword of Truth had Fitch.  Well, at least I thought it had Fitch the way he was described – a simpleton.  Only the simpleton isn't supposed to die!!  Did Goodkind really just invent a character so he could bring the Sword of Truth back to Richard?
Well there is one simpleton left that didn't die – Beata.  Now that she got a glimpse of the truth, she may have a role yet to play in the books.  We shall see.